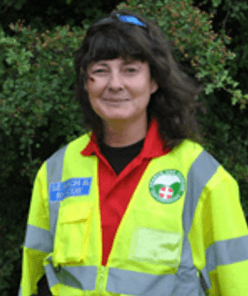 Kilimanjaro climb to raise funds for the Oxfordshire Lowland Search and Rescue Control Vehicle Appeal.
Louise Dennis, a nurse at the Churchill Hospital, Oxford is training to become a lowland search technician with Oxfordshire Lowland Search and Rescue (OxSAR), and left for Tanzania on June 17th to do a sponsored climb of Kilimanjaro. Louise is aiming to raise funds for a new Control Vehicle for OxSAR, which is vital for the co-ordination of searches for missing vulnerable people.
Vice chair of OxSAR, Jennie Webster says:
"We are so thankful to Louise for her fundraising efforts, and wish her the best of luck in her Kilimanjaro climb. She is a hugely enthusiastic and dedicated member and we're proud to have her as part of our unit. OxSAR desperately need a control vehicle as a mobile office, so that our search controllers have somewhere to plan and co-ordinate vulnerable missing person searches, as well as to transport our team equipment so it is available for each search. As we are currently without a control vehicle, we are running searches from our cars and have no way of getting the team's equipment to a search."
OxSAR is a team of extraordinary volunteers, who are available 24 hours a day, 365 days a year to support the police with life-saving searches for vulnerable missing people, such as children, people with mental health problems or learning disabilities, those suffering with Alzheimer's disease and indeed anyone who, at the time of their disappearance is believed to be at risk from death or injury. The unit works predominantly in the county of Oxfordshire but, if asked, will also assist with out-of-county searches, mainly within the South or anywhere in the UK if required.
OxSAR are a member of the Association of Lowland Search and Rescue, who work alongside Mountain Rescue, Cave Rescue, the RNLI and Coastguard, to provide voluntary search and rescue services across the UK. As with all ALSAR units, OxSAR is managed and resourced purely by volunteers and although the unit work directly with the police on searches, OxSAR receives no form of statutory funding, donation or support, and is, therefore, reliant purely on public donation to support the vital, life saving service within the county.